January 29, 2018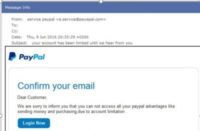 Are you feeling insecure? Scams can make you feel that way! BusinessTechTeam can take away some of the worry.
A phishing e-mail is a bogus e-mail that is carefully designed to look like a legitimate request (or attached file) from a site you trust in an effort to get you to willingly give up your login information to a particular website or to click and download a virus.
Often these e-mails look 100% legitimate and show up in the form of a PDF (scanned document) or a UPS or FedEx tracking number, bank letter, Facebook alert, bank notification, etc. That's what makes these so dangerous – they LOOK exactly like a legitimate e-mail. So how can you tell a phishing e-mail from a legitimate one?
Here are a few telltale signs…
Always look at the e mail address from which the notice came. It is probably a look-a-like address ( drop.com instead of dropbox.com)
NEVER CLICK on the links! First, hover over the URL in the e-mail (but DON'T CLICK!) to see the ACTUAL website you'll be directed to. If there's a mismatched or suspicious URL, delete the e-mail immediately. In fact, it's a good practice to just go to the site direct (typing it into your browser) rather than clicking on the link to get to a particular site.
Another telltale sign is poor grammar and spelling errors. In our example, the EZ Pass notice says "service your debt". Who talks like that?
Another warning sign is that the e-mail is asking you to "verify" or "validate" your login or asking for personal information. Why would your bank need you to verify your account number? They should already have that information. Why would PayPal need you to confirm your e mail?
And finally, if the offer seems too good to be true, it probably is.
We have a whole presentation on Cyber Security which details a lot of these scams and ways to prevent becoming a victim. Common sense rules. Education for yourself and your associates will prevent many costly errors. Also, write for our Report on Cyber Security and read it. Then, call us and we can perform a 27 Point Network Security Audit to help you feel more secure.Prevention is always the best method. Arm yourself with knowledge and the tools to protect yourself in the new digital war.
BTT can set up a way for you to protect your network; call our office if you would like us to set that up: 888.477.9895.
Want to know more about Security? Click here to get our report on 7 Urgent Security Protections Every Business Should Have in Place Now.
Copyright © 2018  BusinessTechTeam, All rights reserved.