Business Continuity Planning
Worry-free data backup and disaster recovery planning for businesses in Central Jersey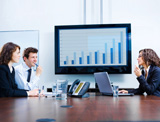 Would You Be Willing To Risk Your Entire Business On Your Current Disaster Recovery Solution? "Why can't my data backup be simpler and more efficient?" Ever thought something like this?
The Computer Hard Drive Backup experts at BusinessTechTeam, LLC specialize in advanced solutions for Business Continuation, helping you protect the things you can't control.


When you partner with BTT for Business Continuity Planning and Disaster Recovery, you can count on us to:
End your anxiety over natural and manmade disasters that could put you out of business, by providing Data Backup solutions that have you covered no matter what happens.
Cut down on lost productivity after a disaster, by providing Back Up and Recovery plans that help you getting back to business fast
End your dependency on unreliable tape backups, with automated Business Continuity solutions that better protect your irreplaceable business data.
You can't predict the future, but with our help you can prevent what might happen from destroying your business.
BTT offers stress-free business continuity and disaster recovery solutions that can give you true peace of mind. Serving Basking Ridge, Bridgewater, Morristown, Newark, Long Hill and Plainfield, we offer the most dependable data backup and computer hard drive backup services to business like yours.
If your business requires Business Continuity, Online Backup, Hard Drive and Data Backup, Computer Backup, Online Disaster Recovery Plan, Virtual Data Recovery, Hard Drive and File Data Recovery, Computer Recovery, Remote Data Backup, or Offsite Data Backup & Recovery Services, we've got the stress-free solution for you.
Don't let one accident put you out of business. Uncover the simple answer to your Disaster Recovery and Data Backup concerns.
Areas Covered
We provide a range of Computer Support, Network Services and IT Consulting in Basking Ridge, Bridgewater, Morristown, Newark, Long Hill, Plainfield and throughout Somerset County, Hunterdon County, Union County, Middlesex County, Morris County and Essex County.